London Design Festival – I spy…
---
September sees London awash with Design talent as the London Design Festival hits town. Ever eager to see fantastic interiors and products, I started my London Design Festival soiree by heading to Tent London to take a look at the new products that'll be coming through soon! Lots of lovely stuff and some great design ideas from some very talented independent designers. Here's a few things that really caught my eye (and my iPhone!) and are set to be big trends in interior design:
Coloured Lighting
Whether you're going for vintage or modern, a coloured lighting fitting is a wonderful detail that can set your interior apart. It's an easy way to add another dimension to the room and introduce more colours – without having the redecorate or spend lots of money.
How wonderful is this dragonfly wall light!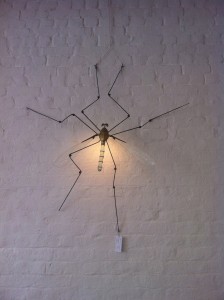 Knitted homewares!
We've had a flavour of this over the last few years, with knitted mugs and crockery being seen and big knitted cushions proving popular. These next products take it one step further – with giant 'threads' creating the brilliant, and incredibly cosy looking, knitted footstools and pouffs, through to knitted lampshades and lighting. Eyeing up a few of these for my new house!
Creative Storage and Display Solutions!
Some of the designers had fantastic ideas for displaying items, and turning storage for bulkier items in to something beautiful! This bike storage is brilliant and makes a real statement piece out of something that could just be a pain (providing you've got the width in the chosen room to take it!). Then I am also in love with these shelves, which have lots of options for being back lit and coloured, together with these perspex frames that allow pictures, momentos and other non-flat items to be mounted on a wall:
Vintage inspired upholstery and Nature Inspired Furniture
Two of my favourite things in this category. I love the vintage shapes on the upholstery in the next two photos and the taupe and deep pink colours used create real boudoir looking furniture. Then I've always been a big fan of anything that reflects nature in interiors. This console table with twig leg design is just stunning, and the mirror using the same twig design as the frame is simply gorgeous.
Finally a little bit of Geometric Design
I do like everything to have it's place, and I love the simplicity of these – it's a little bit like an airplane, a little bit being at school, but the desk space is genius use of space and the modular sofa can't help but create a talking point in any room it's used in! Two pieces of furniture that won't be everyone's cup of tea but have a great sense of style.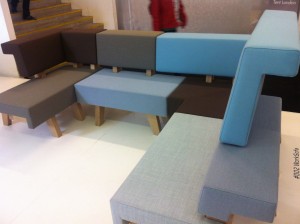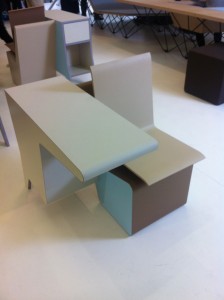 Next blog stop – 100% Design