How to avoid classic kitchen design mistakes
---
Kitchens make homes – it's not just where we spend time preparing and storing food. Today's kitchens are important places for socialising and relaxing too, which is why a beautiful and functional space is so important in a home. Style and substance go hand in hand when it comes to successful kitchen design.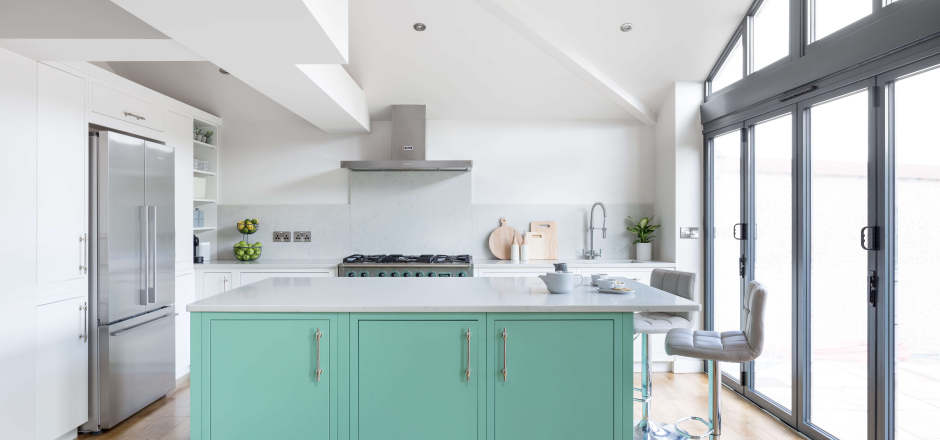 That said, it's not as easy as it may look, and if you're tempted to design your own kitchen, there are many mistakes that people make. Sadly, getting it wrong can actually end up costing you more in terms of money, time and energy wasted. Working with a design professional, on the other hand, will give you access to the latest ideas and information, and the expertise to translate your needs and desires into an efficient plan that fits your taste and budget.
At Furnished by Anna, we can help you transform the heart of your home into a space that you will love to spend time in. From traditional to contemporary styles, for people who love cooking and those who don't, there's a perfect kitchen out there for every home.
We've put together some of the most common mistakes we've come across, along with tips on how to put them right.
Efficient kitchen work triangle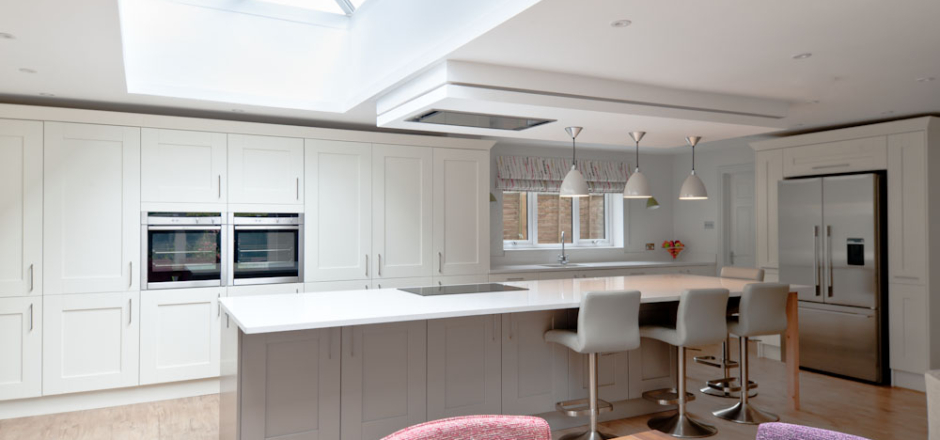 A practical and elegant kitchen design revolves around the 'kitchen triangle' of sink, cooker and fridge. This is the area of greatest activity, so careful planning and unobstructed access are key to achieve good flow. The sink typically sees the most action but if its location is determined by existing pipes to keep plumbing costs low, it may end up in the wrong place and disrupt your workflow.
Regardless of the size or layout of your kitchen space, the sum of all the legs of the work triangle should be at least 3 metres and no more than 8 metres. A work triangle that is too small will make it difficult for several people to use the kitchen without getting in each other's way. Too large and you could end up with an inconvenient design, making food prep a tiring task.
Importance of kitchen storage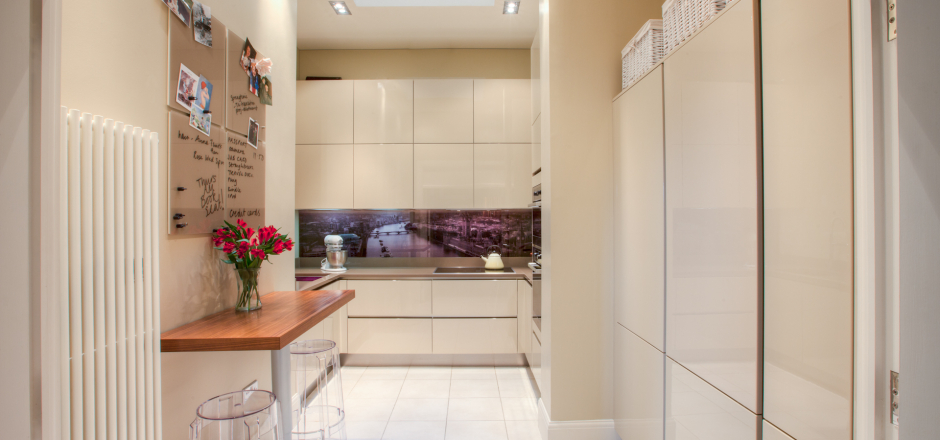 Efficient storage is the Holy Grail of every kitchen. From foodstuffs to crockery, electrical appliances and pots & pans, it all has to go somewhere. Finding a place for everything while keeping things accessible but without cluttering the room requires some thought. And while there's no such thing as having too much kitchen storage, allowing for too little storage or wasting precious space is a classic design error.
Smart kitchen planning is the answer to maximising storage space, especially if the room is limited in size. Consider installing extra tall wall cabinets that make the most of high-up storage space. Use the back of island units for additional cupboards or open shelving, and fit slimline appliances. Pay more attention to the internal organisation of kitchen units, drawers and corner units – you'd be amazed at the space saving options available.
Plenty of worktop space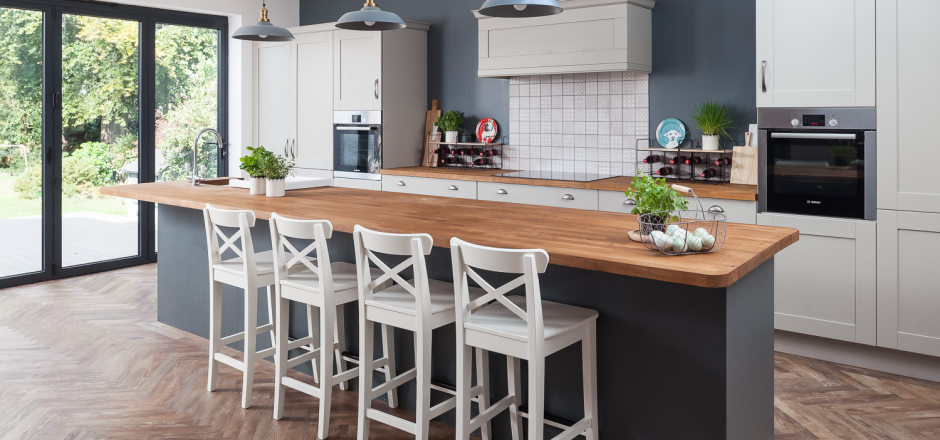 Lack of kitchen worktop space is one of the biggest complaints people have about their kitchens. It's easy to see why – all kitchen activities require a worktop! From preparing food to making coffee, storing herbs or food processors, there's a lot of demand on horizontal surfaces – and you simply cannot have too much worktop space.
If the space allows, a kitchen island or peninsula, breakfast bar or separate dining table could add much needed space – but do check your kitchen triangle and workflow to make sure there are no bottlenecks or obstructions. Kitchen design experts agree that the room should be at least 2.5 metres wide and 4 metres long for an island to work.
Good lighting and ventilation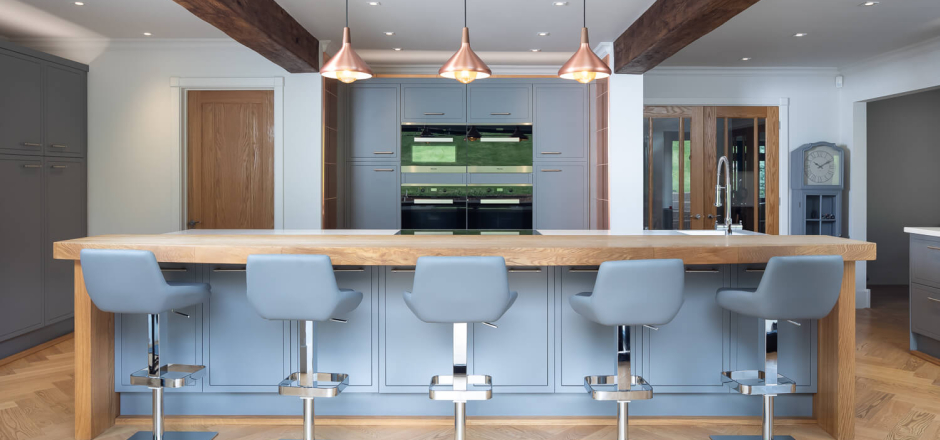 Proper kitchen lighting is essential for both practical and aesthetic reasons. Sadly, the importance of lighting all too often goes unrecognised, which can lead to dark and unappealing environments. Kitchens require three types of lighting: ambient lighting for overall illumination, task lighting such as spotlights or under-cabinet lighting for safe food prep and utensil handling, and accent lighting such as pendant lights over dining areas to enhance the beauty and ambience of the space.
Ventilation is a vital kitchen ingredient to avoid lingering cooking smells, which can ruin the loveliest of kitchen designs. Invest in an effective extractor hood system that can easily deal with the problem, making cooking and dining more pleasant, especially if your kitchen has an open plan design that connects to other living areas.
Timeless kitchen design
Kitchen trends come and go, and the latest fashion may not always be the best long-term choice for your home. On-trend colour palettes or faddy styles and materials may have a shorter lifespan and make your new kitchen look unfashionable sooner than you would like.
At Furnished by Anna, we can help you design a kitchen that looks fresh and modern but won't date quickly and can be updated easily in years to come. Whether you prefer a classic style or a contemporary design, we will strive to achieve a timeless result for you that offers an excellent return on your investment. Contact us today to discuss your vision for your dream kitchen.