Watching Hotel GB and liking the interiors? Find out where you can get the look here!
Call me a geek – but turns out I'm usually watching the background of most films and TV programmes I watch and absorbing the interiors… I also hate it when you can't find something you've seen. So hopefully this blog post will help those of you searching for something you've seen in the fab Hotel GB interiors!
In the Staff Room – Cole and Son Woods Wallpaper
Find this is many stores (or through reputable interior designers such as myself!)
In the Spa – Louise Body Wallpaper

It's £60.00 per roll from Louise Body's website www.louisebody.co.uk. And look at her other ranges too and they are just fantastic and I've been a fan for a while!
In the Penthouse – White Leather Barcelona Chair
Expect to pay around £800+ for a real one, or around £300 for a replica.
In the Restaurant – Xavier Pauchard Cafe Chairs
Love these! Have also used them in one of my projects (click here to see them!).
Over the Bar – Boda Double Glass Pendant Lights
Normally around £100 each but Heals have these on half price at the time of writing this – bargain!
In the Bar – Designers Guild Narbucco Cushions in Teal
Heals have a ready made version for £68.00 or else you can buy the fabric by the metre and make the cushions as large or as small as you'd like.
In the Bar – Spot Light Floor Light
Loving these type of lamps at the moment – there are lots of variations around, try searching for spot light or cinema floor lamps. But my favourite, and reasonably priced, version comes care of Ivy Pearl Interiors and is £339.00
Then some tips to recreate some of the looks:
Ceiling Lights in the Restaurant:
Long flex pendant lights have been a big trend of late but the central fixings aren't that easy to come across. But Historic Lighting have come to the rescue! They have a range of multiple outlet ceiling roses and coloured flex that your electrician can wire up. Then add a ceiling hook to drape the flex on and a statement bulb and you're away!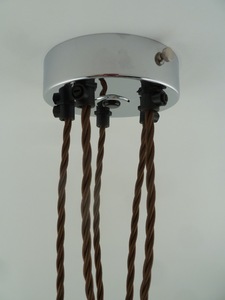 Coffee Table in the Lobby:
In the hotel lobby they've made use of two pallets (exactly the one used by transportation and delivery companies all over the country) on top of each other, with a glass top. Lots of glass shops will cut you a piece of toughened glass to your size. Or else you can google pallet furniture and lots of options are coming up!
So there we go, some of the key pieces that stood out. Anything else you need help finding – then just let me know 🙂